Supra News - 2010


April

Now that Easter has come and gone, we're looking to shift some excess stock - so please check our "clearance" webshop here


March
We will be exhibiting at the London High Fidelity Show, to be held at the Park Inn Hotel, Bath Road, Heathrow, west London on 27th-28th March 2010.

Numerous special offers will be available for visitors to the show, so if you're coming along, please drop by our stand.


February
We'll be exhibiting at the Bristol Sound & Vision Show from 26th-28th February 2010, at the Marriott Hotel, Lower Castle Street, Bristol. For more info click here.

Our stand is in the Bristol Suite on the ground floor - look out for Stand No.6......

We'll have loads of goodies on show at Special "Show Prices", so if you fancy coming along, either to make an enquiry, by chatting to our cable experts, or to get a great deal on something you need, then we'll be sure to make it worth your while....!!!!!


NEW ITEMS FOR BRISTOL SHOW

We are pleased to announce the following Supra Hum Buster products:

Supra AGS-10k

High-End Audio Ground Separator turns your computer music into hi-fi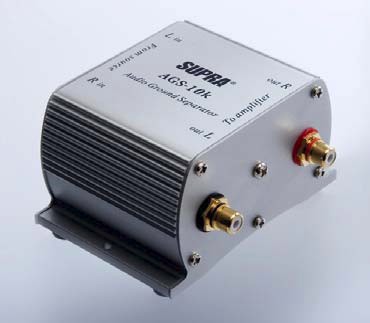 The Supra AGS-10k is a hum blocker which is connected between (say) the audio line-level outputs of a computer/laptop and the audio inputs of a hi-fi amplifier. Or it can be used between any two line-level items to avoid ground loop hum. Different to "common ground" separators, the Supra AGS-10k is of a high-end design with toroid transformers with wide frequency range and low distortion, even at the lowest frequencies.

The chassis is made from extruded aluminium, which helps prevent any RFI pick-up.

Specifications:
Input impedance: 10 kohms
Output impedance: 10 kohms
Ratio: 1:1
Frequency Range: 15 Hz - 22 kHz
Size: 53 (H) x 96 (W) x 89 (L) mm
Weight: 440 g

For the full range of UK prices, please click here

Supra GSS and GSB TV/aerial ground separators

Available in three formats - the straight and angled TV adapters, fitted with standard co-ax type (female) input and (male) output and a version fitted with F-type connectors at both ends. The F-type version is supplied with gold-plated F-type plugs.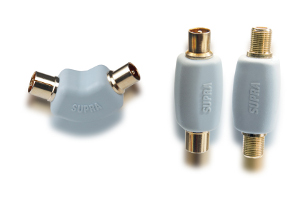 Supra HDMI Met S/B cables

These cables are now available, and are described below.

Supra SA90+ and SA90- right-angle HDMI adapters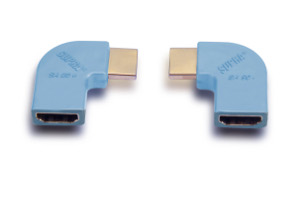 There are left and right handed versions of these HDMI adapters, designed to allow "straight" HDMI cables to be fitted to equipment where the sockets on the hardware have been positioned awkwardly.

Some screens and projectors either have little space at the back to permit a HDMI cable to be plugged straight in, or perhaps there is a side mounted HDMI socket and the HDMI cable "juts out" too much.

For the full range of UK prices, please click here


January
We're pleased to announce that the NEW Supra Met-S/B HDMI cables are now becoming available in a wider range of lengths.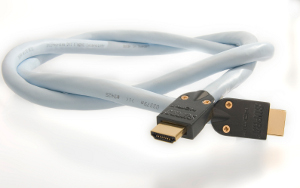 The new cables feature a Supra innovation - removeable HDMI bodies, which have TWO basic functions:

1) When the HDMI body is removed, (via two small screws) it allows the cable to be passed through small conduits, which aids installations.

2) The HDMI body is available in TWO shapes - the straight version and the curved version - so the cable can be dressed at the back of the equipment, which then puts less stress on both the cable and the HDMI socket....

The cables are fitted as standard with 2 straight HDMI bodies, but in the pack is both a shaped body as well as some strong nylon braid, to allow installers to draw the cable through without damaging it.

Extra housings are also available in a "kit" to installers for instances where customers require additional curved housings.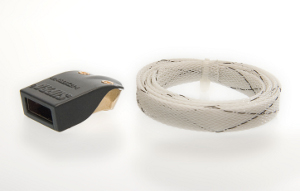 High Speed HDMI Cable Specifications:
* Signal Bandwidth: 340 MHz
* TMDS Bandwidth: 10.2 Gbit/s
* Color Depth: 48 bit/px
* Resolution Guaranteed 1080p, up to 1920x1200.
* Deep Color, x.v.Color
* Auto Lip Sync
* Dolby TrueHD, DT-HD Master Audio
* 3D over HDMI
* Audio Return Channel


Cable pricing has been confirmed and the new cables start at £59.99 for a 1m length. Longer lengths are available, costing £7.50 per extra metre of cable - e.g.: a 2m cable would be £67.49.

For the full range of UK prices, please click here


NEW Supra LoRad Mains Connectors

We now have available a range of Supra designed IEC and EU (Schuko) mains connectors.

There are 3 new connectors, which are available now: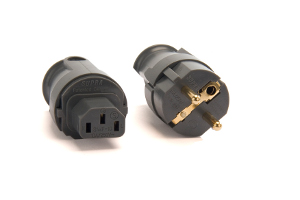 Top left is the SWF-10 10Amp IEC connector, to the right is the Supra SW-EU Schuko connector, designed for European markets.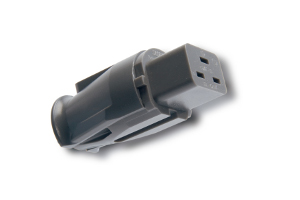 Similar in design to the SWF-10 is the new SWF-16, rated at 16 Amps.

All three have been designed specifically for use with Supra LoRad 1.5 and LoRad 2.5 cables.

For the full range of UK prices, please click here