Supra Trico Composite / Component Video / RGB cables

Trico is double-shielded with a braided inner screen of silver plated oxygen-free copper and an outer of bare OFC-braid. The screens provide efficient noise protection.

The high technology design of Trico produces an extremely low attenuation: -0.6dB/100m at 1MHz and -7.1dB/100m at 100MHz.
True 75 Ohm: The characteristic impedance is very stable: +/- 1.5 Ohms from 1MHz up to 100MHz.




This cable is suitable for:
Composite Video (if used singly)

or if 3 (or more) Trico cables are used together:
Component Video
RGB Video (sync on green, RGsB or RGB/HV)
Video walls
High resolution video projection
CG workstations
Studio tie lines


Standard Features:
A single core of 75 ohm silver-plated OFC cable
Individual tin-plated OFC screens around each core
Very low capacitance, due to the use of PE foam for inner insulation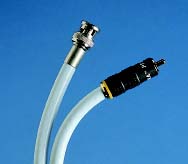 Trico can be terminated at either end with: single phono, scart or BNC connectors, or for component /RGB video use: 3 phonos or 3 BNC plugs