Supra AV4 Component Video/RGB cables

These are now discontinued but if you still want to buy one of these cables:

Our own Cables Outlet webshop (opens in new window), where you can buy specific cables at discounted prices, (these are mainly: end of line, ex-demo or ex-review or just end of reel offcuts) is now ONLINE


The AV4 cable is available and comprises four separately shielded conductors in a single outer jacket. Can be used for carrying RGsB or Component Video signals and a single digital audio or composite video channel. May also be used to carry s-video plus 2 channel audio.



AV3 cable (unterminated)

Designed around the same raw materials as the AV2 and AV3, the AV4 provides high quality at reasonable pricing.

Typical connectors to terminate AV4 include: phono plugs, BNC, scart, DVI-I and VGA (aka HDD, DB15, D-Sub). AV3 can be supplied in non-standard lengths as a special order.

This cable is suitable for:
Component Video
RGB Video (sync on green only)
Video walls
High resolution video projection
CG workstations
Studio tie lines

Standard Features:

4 cores of 75 ohm tin-plated OFC cable
Individual tin-plated OFC screens around each core
Very low capacitance, due to the use of PE foam for inner insulation

AV4 can be terminated at either end with:
4 phonos,
4 BNC plugs,
a DVI-I plug (to suit projectors and other products)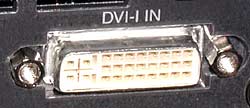 a D-Sub (High Density 15 pin VGA),
a scart plug (wired for RGB or composite/s-video & audio)