Supra EFF-I Cables - for analogue audio signals

EFF-I 75 Ohm interconnect cable - for mid- to high-end audio systems.

EFF-I comprises two silver plated OFC conductors, each individually shielded, with a separate drain wire, such that the cable can be terminated in either unbalanced or balanced operation. Two cables are required for stereo.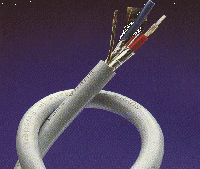 EFF-I cable (unterminated)

The dynamic influence of skin effect is of great sonic influence as music/video signals are nothing but variations.

By means of the Equalised Frequency Flow technique (EFF) Supra takes skin effect into account. The EFF-I cable consists of two tube-shaped conductors with a wall thickness of 0.20 mm, which is well below the smallest skin depth within the audio range.

This makes all frequencies operate under the same conditions.

Effective penetration depth (skin effect)


| | | |
| --- | --- | --- |
| 14.7 mm - Skin depth at 20 Hz | 0.91 mm - Skin depth at 5 kHz | 0.46 mm - Skin depth at 20 kHz |

EFF-I interconnect cable construction

Each tube-shaped flexible conductor is made of silver plated Oxygen Free Copper of 0.5 sq. mm cross-sectional area, within a centre core of PolyEthylene (PE). Both conductors are individually screened for use in balanced or semi-balanced configuration.


| | |
| --- | --- |
| | End on view of EFF-I cross-section. |

EFF-I cables can be supplied in the following variations:

EFF-IX - with standard phono plugs
EFF-ISL - with locking phono plugs
EFF-IXLR - with 3pin XLR connectors.




Standard lengths are 0.75m, 1m and 1.5m. Other lengths can be supplied to order.