DAC Digital and Analogue interconnect cable AES/EBU harmonised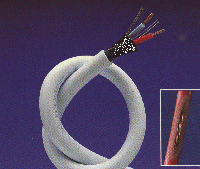 A fast interconnect of extremely low capacitance. In accordance with our design concept, low inductance is better for a loudspeaker cable, whereas for an interconnect the capacitance should ideally be low. Supra DAC is insulated with PE foam skin which reduces capacitance to only 45pF/metre.

It is screened with our very efficient and strong semi-conductive nylon ribbon. Supra DAC is also designed for digital audio and is harmonised with the AES/EBU 110 ohm standard.

The high frequency properties of Supra DAC are outstandingly good, owing to its high velocity factor. More clean transients and thus improved space dimension result from the high velocity factor.


| | |
| --- | --- |
| | End on view of DAC cross-section. |

The velocity factor of Supra DAC is as high as 78% of the speed of light, owing to the low dielectricity of the gas blown foam skin insulation. With PTFE/Teflon, it would have been only 71%.

The velocity factor, v, can be calculated with the simplified formula:
v = sq root (1/K)

where K is the dielectricity factor of the insulation material.

DAC cables can be supplied as follows:


Analogue cables
DAC-X
PPX phono plugs
0.75 metre pair
DAC-SL
PPSL phono plugs
0.75 metre pair
DAC-XLR
Swift XLR Gold plugs
0.75 metre pair
AES/EBU 110 ohm Digital cables
DAC XLR Gold
Swift XLR Gold plug
1 metre piece