Supra HF100 HDMI Digital Video cables (2nd generation)





These are now discontinued.

Supra started shipping their "2nd generation" HDMI & DVI terminated cables in August 2005 and HDMI terminated versions of the HF100 cables are available in a wide range of lengths from 0.5m to 15m.

Supra HF100 digital video cables are designed to run at high definition resolutions. Depending on the source resolution, the length of the cable and the receiving hardware, resolutions of 720p, 1080i and even 1080p can be carried by the HF100 cable, from sources such as set-top boxes, games consoles and 5" silver disc players.

Suitable set-top boxes that support HDMI include the Sky HD box as well as the new generation of Freesat boxes, which will include support for HD broadcasts from both BBC and ITV. Eventually, Freeview HD boxes will become available, but OFCOM only seems to want 4 HD channels to be broadcast.....so for a great HD TV broadcast, your best bet is via one of the satellite services.....!

The Sony Playstation 3 has a HDMI socket, and likewise, the Microsoft XBox 360 Elite supports HD at 1080p, via a HDMI socket on the rear and will be supplied with a HDMI cable - but YOU may need a longer cable to reach your display or projector.

Likewise, some Blu-Ray and HD-DVD players are now available which output up to 1080p resolutions, as long as the film studios start issuing these discs with native 1080p resolution (i.e. they are not reliant on upscaling a lower quality image up to 1080p !!).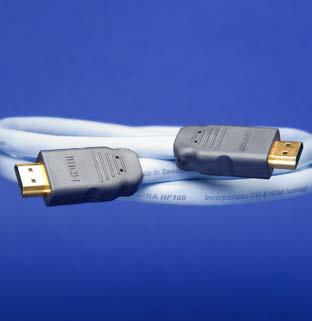 The new "HF100" cable has been purpose designed to run at high resolutions such as 720p, 1080i and 1080p even over long lengths and without problems.

The HF100 HDMI cable is terminated as HDMI to HDMI (in lengths up to 15 metres)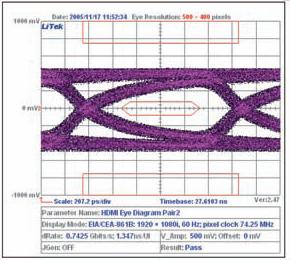 HDMI v1.2 specifications:
All Supra HF100 cables support the v1.2 specification.

Unofficially, the v1.2 spec supported resolutions up to 1080p, and all current and previous versions of the HF100 HDMI cables up to 15 metres in length support 1080p.


HDMI v1.3 specifications:
We have recently received some questions concerning HDMI v1.3a and whether Supra HF100 HDMI cables match these specifications.

As of Spring 2007, all HF100 HDMI cables up to 8m in length are v1.3 compliant.


Previously, before spring 2007, only HF100 HDMI cables up to 6m were v1.3 compliant. This is because, when our 8m HF100 HDMI cables were tested, it was found that it only just failed to meet the v1.3 compliance test. As such, it was decided to change the inner parts of the HDMI connector, because it allowed Supra 8m HF100 HDMI cables to conform to "v1.3" standard. This for us was important because, after the 1m and 2m length cables, the 8m is our most "requested" length.

These new low resistance connectors have been fitted to all Supra HF100 HDMI cables since approx Spring 2007.

This should not cause any concern for customers who have bought HF100 cables before Spring 2007, because all lengths up to 6m, passed the v1.3 test even before the connector was changed....and of course, subsequently, since Spring 2007, all cables up to 6m in length are still compliant....!

Similarly, it has only been within the last 6 months or so, that "v1.3 compliance" has become "important", due to the huge number of inferior cables that were being marketed at very low cost and which, when used at 1080p, were offering very poor performance....this was because for most people, "HDMI" is just a generic term for "high definition" and yet, many of these cables were most definitely, "low definition".

As such, only since May 2008, has the HF100 HDMI packaging been updated to show which of our cables are v1.3 compliant. So, if you find a store has sold you a HF100 HDMI cable in any length less than (or equal to) 6m, then even if it doesn't say it on the packaging, it is still v1.3 compliant, (as long as it says it is a Supra HF100 cable on the cable itself).

Likewise, since Spring 2008, all new production of HF100 HDMI 8m cables have been certified as being v1.3 compliant.


Longer Supra HF100 cables, such as the 10 metre (or longer) are NOT currently v1.3 compliant, as the increased bandwidth required to support LipSync, DeepColor and Dolby TrueHD cannot be carried over the longer distances, due to the proportionately higher internal resistance (due to the longer cable). This should NOT be a problem (in most cases), as the majority of hardware available today is only using the 1080p part of the specification - see below called "Is HDMI v1.3 really necessary?".

Please note: The issue of attenuation (over longer lengths) affects ALL cable manufacturers to one degree or another - some offer shorter (than 8 metre) cables while some others are meeting the v1.3 compliance over much longer lengths by supplying two (or more) shorter cables and providing an in-line buffer (or booster amplifier) which receives the incoming signal and then re-amplifies it to carry the signal over the next cable length.

The HDMI specification allows this "booster" function as there is a supply voltage on one of the HDMI single lines to permit active amplification of the transmitted signal.

You should also note that to notice ANY improvement in picture and/or sound quality (as a result of the v1.3 specification), EVERY item in the chain, including the encoded signals on the disc, the player, the cable AND the screen (or projector) MUST be v1.3 compliant - otherwise, even if one item is NOT v1.3 compliant, then the picture and sound will run at the v1.2 specification.

More info on HDMI 1.3 can be found here: HDMI website


HDMI v1.3 specifications - what are they?
The HDMI 1.3 specifications were released in June 2006 and the 1.3a specifications were released in November 2006.

The specifications involve 3 types of connectors:
Type A is the connector currently used on Supra 2nd generation HF100 cables.
Type B is a larger connector for dual link operation and
Type C is a smaller connector for mobile devices.

HDMI 1.3 specifications also cover two categories:
Cat 1 is the same specifications for which Supra HF100 HDMI Cables are already tested and approved for (up to 6 metres), which is good for HD 1080p and supports a clock frequency up to 74.25 MHz
Cat 2 is NEW and is for a higher resolution and consequently supports a much higher bandwidth along the cable and supports a clock frequency of up to 340 MHz...!

Supra HF100 HDMI cables are approved for use as Cat 1 cables up to and including 8 metres in length. So far, few (if any) HDMI cables are approved for Cat 2.

What improvements does v1.3 support?
Higher Speed - single link bandwidth can be up to 340 MHz
Deep Color - HDMI 1.3 supports 10-bit, 12-bit and 16-bit (RGB or YCbCr) color depths (it was up to 8-bit).
Broader color space - HDMI 1.3 adds support for "x.v.Color™"
Lip Sync - HDMI 1.3 incorporates automatic audio synching capabilities that allows devices to perform this synchronization automatically with total accuracy.
New HD lossless audio formats - HDMI 1.3 adds additional support for new lossless compressed digital audio formats Dolby TrueHD and DTS-HD Master Audio.

Is HDMI v1.3 really necessary?
Here's a link to a great article entitled Is HDMI v1.3 Really Necessary? which really puts things into perspective. If you thought HDMI v1.3 is a MUST HAVE, then for now, you will be sorely disappointed because at present, (and to the best of our knowledge) there are NO domestic products that support Deep Color or Lip Sync at present (Feb 2008). In fact the best you'll get is 1080p - which is what all Supra HF100 cables support (up to 15 metres long). So, I wouldn't be too worried about v1.3 for now...!


Supra HF100 Technical Specification
The following list shows the product features for Supra HF100 Digital video cable:
4 screened twisted pairs of solid OFC conductors (with a PE foam insulation layer) improve the High Frequency response for wide-bandwidth and efficient signal transfer
Heavy Double layer shielding: 1st layer: Aluminium foil, 2nd layer: Aluminium foil, shield signals from external influences and prevents the digital signal being radiated into nearby components or other cables
0.8 micron thick 24k gold-plated contacts on connectors deliver long term reliability
Small form factor cable - diameter only 9.5 mm, enabling cable to be easily hidden.
Note that the Supra DVI connectors used are Jenving's own design and are removable and replaceable and made from die-cast aluminium, which give them good shielding properties.
Supra's HDMI connectors are factory fitted and cannot be removed or replaced (especially if damaged).

DOWNLOAD THE HDMI / DVI FACTSHEET (approx 470 kb - as PDF - needs Adobe Acrobat)

Products that need HD-compatible HDMI cables:

The HF100 cable will be of keen interest to Sky HD and Virgin Media V+ (formerly Telewest TVdrive) subscribers, who have ceiling mounted projectors or flat-panel screens mounted some distance away from the "tuner/media" box - currently few other cable companies can manufacture a HDMI.ORG approved HD Ready-compatible cable that can cope with a 1080i resolution signal over 15 metres distance. And given that Sky started their HD service on 22nd May 2006 (see this link) so it's even more important to buy the right cable NOW, to ensure full compatibility with the new service.

pictures of the NEW Sky HD box: (some picture links keep changing - if none appear check here)




(images copyright Sky.com)

We understand that the single HDMI socket on the rear of the NEW Sky HD box will carry HD TV signals AND Dolby 5.1 Surround Sound from the Sky HD box to the TV. If you have a separate AV Receiver or processor, then a TosLink socket is provided to send the digital audio to your receiver/processor.

Connections on the Sky HD box include: twin LNB inputs, phone socket, RS232, TV-in (co-ax), 2x RF-out (co-ax), Toslink, USB, component video (via 3x phono), L/R (analogue) audio (via 2x phono), 2x scart, HDMI, Ethernet (RJ-45) and SATA.

Virgin Media V+ info here




(image copyright and HDTV info Virgin Media)

Likewise, the NEW generation of DVD players and recorders also now feature HDMI sockets, so this is the best way of ensuring high quality picture and sound (where supported).

Please note: Jenving Technology aB, the manufacturers of Supra branded HDMI cables, are an official HDMI Adopter company - see the official list here - for the names of all the adopter companies - you may be surprised by the absence of many well-known "cable" brand names - this is because many HDMI cables are made for these companies by third-parties, unlike Jenving who produce the Supra HF100 cable in their own factory in Sweden, which ensures better "hands-on" quality control during the production process.

HDMI, the HDMI logo and High-Definition Multimedia Interface are trademarks or registered trademarks of HDMI Licensing LLC