Supra HDMI AOC - Active Optical cables



Supra are pleased to announce the immediate availability of the new Supra HDMI AOC cables and in a wide range of lengths, from 1 metre up to 100 metres.

What is AOC?
These NEW cables are purpose designed to carry the latest v2.x specification of HDMI signals over much longer lengths than is possible using conventional "copper cables". In fact these cables can be supplied in lengths up to 100 METRES !!

The giveaway is in the term "AOC" which is an abbreviation of "Active Optical Cable". The hybrid fibre optic technology enables a lossless transmission over long distances and keeping RFI and EM interference to a minimum.

Note: These cables are "Plug & Play" and they do NOT require an external power supply - they simply replace any existing HDMI cable and can perform to HDMI 2.0/2.1 specifications and use the inline power sourced from the HDMI socket.

This makes installation very simple- just unplug your old HDMI cable and plug the Supra HDMI AOC in its place - taking care to connect it the right way around - as the cable IS directional - each connector is marked as to whether it is used at the "Source" end or the "Display" end.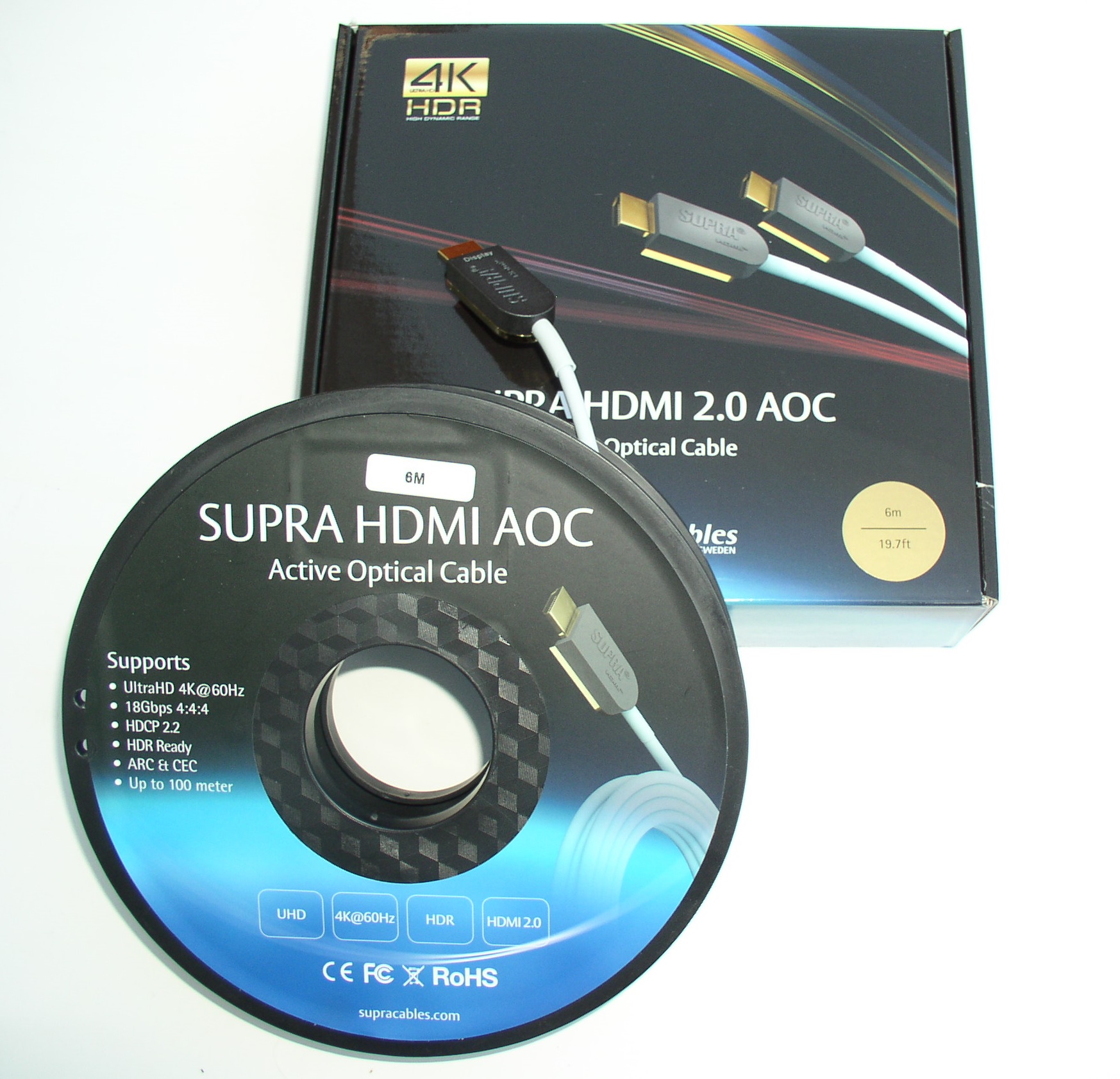 As such, they are perfectly suitable for Professional and Home Cinema installations requiring Ultra High Definition picture and Dolby True HD and DTS-HD Master audio sound quality.

Meeting all of the latest specifications for HDMI v2.0/2.1 including:
* Ultra 4K resolution (3840 x 2160 @ 60Hz) - HDMI v2.0
* Ultra HD 8K resolution (7860 x 4320 @ 60Hz) - HDMI v2.1
* 4:4:4 colour and HDR,
* Dolby True HD, DTS-HD Master Audio up to 32 channels
* HDCP 2.2 (HDMI v2.0)
* HDCP 2.3 (HDMI v2.1)
* ARC and CEC with a bandwidth of 20 Gbps.
* Fully backwards-compatible with existing HDMI products.

* Available in a range of lengths from 1 metre up to 100 metres !!!
(lengths available: 1m, 1.5m, 2m, 4m, 5m, 6m, 8m, 10m, 12m, 15m, 20m, 25m, 30m, 50m, 75m and 100m)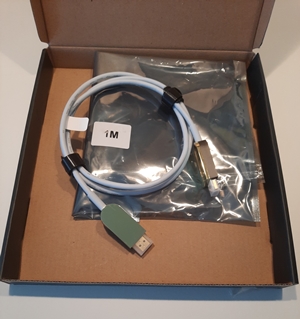 The image shows the 1m cable in it's carton.

* Guarantee period (within UK): 2 Years from date of purchase.

Please note: Jenving Technology aB, the manufacturers of Supra branded HDMI cables, are an official HDMI Adopter company - see the official list here - for the names of all the adopter companies - you may be surprised by the absence of many well-known "cable" brand names - this is because many HDMI cables are made for these companies by third-parties, unlike Jenving who produce the Supra HD5 cable in their own factory in Sweden, which ensures better "hands-on" quality control during the production process.

HDMI, the HDMI logo and High-Definition Multimedia Interface are trademarks or registered trademarks of HDMI Licensing LLC